Two remastered Borderlands games in one package, but is it enough?
I'm fairly new to the Borderlands series, I recently finished the first game and have been going through Telltale's episodic series, but I missed out on Borderlands 2 and the Pre-Sequel…until now, what's great is that as a newcomer to the games I didn't know what to expect other than the rise and fall of Handsome Jack, but is there more to this remaster than meets the eye?


Some might question why 2K/Gearbox didn't just make a Borderlands Trilogy collection; I honestly don't know the answer as I'd love a next-gen version of the original Borderlands. Still, its great value for money as each game will take you roughly 60+ hours to get through and that's without getting all the trophies. The Pre-Sequel was the first of the two I dived into and was stunned by the visual upgrades, although I'm not a huge fan of the zero gravity gameplay and died numerous times because of it.
Borderlands has always been better as a co-op affair and the Handsome Collection is no different. I struggled to get through both games solo, I did…but it took a lot of dying to get there, the difficulty has stepped up a considerable notch from the first game. The formula remains the same with the series in its looting, RPG elements as well as plenty of optional side-quests and impressive main quests, I found Borderlands 2 to be a lot more enjoyable in this regard than the Pre-Sequel, but overall I found that pretty fun too.


It's the characters you come across that are truly memorable in the series, from Handsome Jack to Mad Moxxi; each has their own unique personality that stands out from the crowd. It's great to have both games looking as good as they do, the Pre-Sequel has some small framerate issues and texture loading ones too, but they seem to have already improved since launch and I hope they continue to improve further.
The Verdict
Overall, the Handsome Collection is a steal at its price tag of £45. There's hundreds of hours of content between the two, it's highly enjoyable from start to finish and while it'd be nice to see Borderlands 1 getting added to the mix, it's still an impressive collection and a worthy remaster for any fan or newcomer.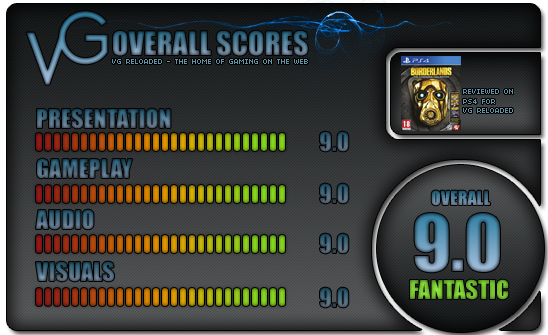 For many years, racing games have been one of the best-selling genres of video games. Titles such as Burnout and Gran Turismo have become legendary in many a gamer's mind.
But an impressive subgenre in this realm are the Formula 1 racing games that have managed to deliver an impressive emulation of all of the excitement and drama of this iconic racing sport. So here's a quick look back at some of gaming's F1 successes.
Formula 1 for PS1
All the way back in 1996, Sony launched its first racing game in the official Formula 1 series. This game took advantage of the ground-breaking technology at the time to deliver a highly playable racing experience that allowed players to complete a full F1 season either against computer opposition or against a fellow player.
The game was praised for its realism and gameplay, and was also notable for the introduction of in-game commentary that was used to give the game an element of excitement much like the real time F1 updates offered by the Coral site.
F-1 World Grand Prix for N64
In 1998 Nintendo gave the N64 a much needed racing game with F-1 World Grand Prix. This featured a racing competition that was based on the 1997 racing season and featured all of the stars of the era.
The game was notable for its highly realistic aspects of extreme weather conditions, as well as detailed information about how technical details such as tyre tread and fuel levels affected the driving performance.
F1 2011 – 2013
Many gamers were delighted with the news that award-winning games developers Codemasters had been granted the license for Formula One games in 2011.
The team behind great racing games such as Colin McRae Rally gave the game a much greater attention to detail, and also introduced an option that enabled gamers to drive a variety of classic cars and circuits with the skills of legendary drivers such as Nigel Mansell.
F1 2015
And finally, F1 fans got the news that they'd been waiting for recently when Codemasters announced the arrival of the latest F1 game in June of this year.
The game will feature on the new next gen consoles of PS4, Xbox One as well as PC platforms, and will include all of the updated features that you'd expect such as a spectacular visual display, along with improved handling of the cars through a new physics model of how the tyres adapt to the track.
And most interestingly, the game also promises to use voice recognition technology that will allow you to communicate to your team in the pit via a headset!
More than just a PSP port?
Read more
How far does Max's new power go?
Read more
Should you go on this odyssey once more?
Read more
Is there more to this than meets the eye?
Read more
Does Episode 4 end the series with a bang or a whimper?
Read more
Dragons make their Telltale debut, Oh and so does the Purple Wedding…
Read more
Has the 3 month wait been worth it?
Read more