Xbox 360/Wii Review: Madden NFL 10
Is this year a good one for Madden? Maybe…

Experience first-hand what it's like to Fight for Every Yard in Madden NFL 10. With the all-new Pro-Tak™ animation technology, players have more control over the outcome of each play. Whether driving a receiver towards the first down, or battling for a fumble at the bottom of a pile, the play won't end until the whistle blows. Add to that the most immersive broadcast presentation and online innovation to date, and Madden NFL 10 captures the authenticity and emotion of the NFL like never before.
Pro –Tak – This all new animation technology provides unprecedented control over the outcome of every play. Drag defenders towards the first down marker, including up to 9-man gang tackles, fight for a fumble at the bottom of the pile, and evade the rush with all-new quarterback avoidance actions. Enhanced play at the line of scrimmage features a new blocking system that allows the quarterback to step into the pocket and gives the defensive line more control over the rush.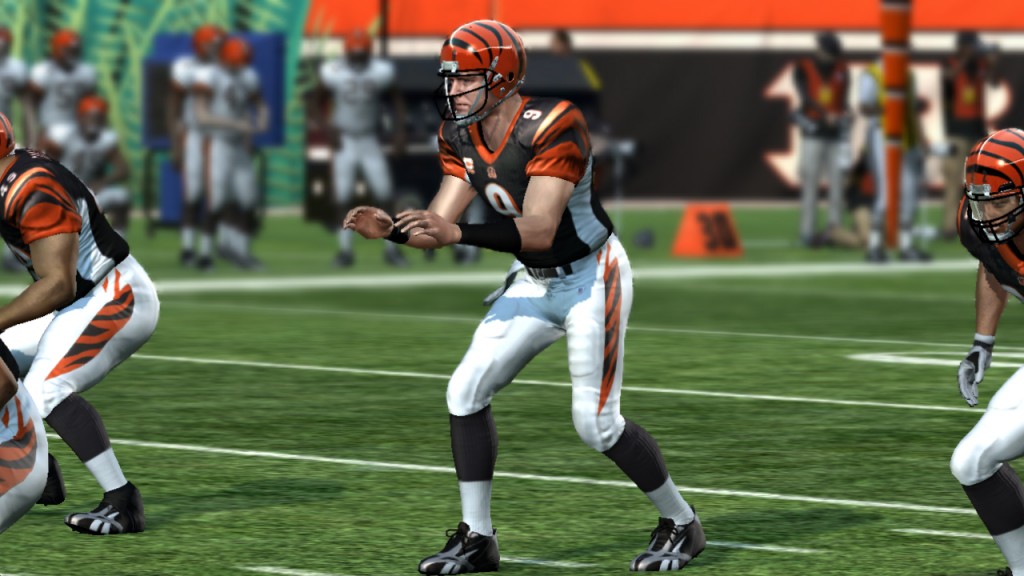 If you've been following VGR over the years, you'll know that I'm not the biggest fan of American Football…mostly because I'm from England. It makes it quite difficult for me to review NFL games fairly, yet I can see why it's so popular. I believe that Madden NFL 10 is the best version of the series to date, yet it's becoming increasingly obvious that the changes made are minimal at best and it feels and looks like last year's game.
I guess this is where I get a bit annoyed with the Madden license, or any other EA Sports franchise. They keep making games every year, but the additions are fairly small and sometimes hard to notice. You may get a few roster add-ons, some shiner visuals and some extra modes (if you are lucky) but that's about all you will get with Madden NFL 10. I'm not saying it's a bad game by any stretch, it's brilliant…it's just that I've played these games for years now and I'm not seeing a good enough improvement between years.


The Wii version lacks MotionPlus support, which I found surprising considering EA Sports' support for the add-on with Grand Slam Tennis and Tiger Woods PGA Tour 10. Besides that, the Wii version is more for the casual gamer with easy controls to use and overall it feels more natural than playing the next-gen version, but it still looks pretty awful. The Wii is capable of much better graphics than Madden NFL 10 is able to provide…which is a shame. It does have online, but you'll need your EA Account to access it.
The Xbox 360 version is the usual cluster of modes and mini-games that you've come to expect from the series. I guess the only way I can truly recommend buying Madden NFL 10 is if you have never played a game in the series before. If you have played a previous instalment, you will notice too many similarities between last year's game and this one. Sure, the controls seem to be more responsive and it does look better but in today's market, it just doesn't seem enough. I suppose I have a problem with these yearly updates of games, it doesn't give developers enough time to add on some real innovation which these games are clearly lacking.
The Verdict
Madden NFL 10 is a great game for both the Wii and the 360, but only if you aren't expecting too many new things from it. It maybe the ultimate version of the series to date, but next year's game will be as well and so on, and so on…you get the picture. Perhaps the series would benefit more from some extra development time instead of pumping out these games every year.